Behind-the-scenes look at Homecoming Proposals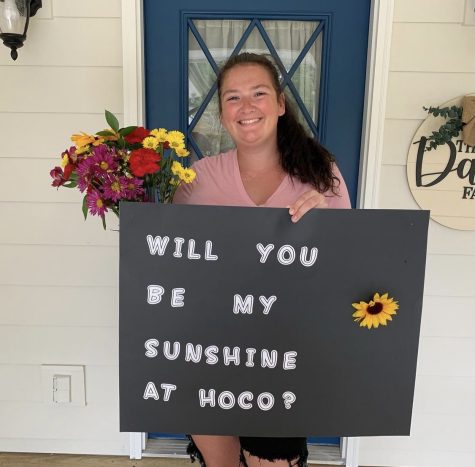 As the season turns from summer to fall, and football season commences, it also marks the preparatory season of the first big dance of the year–Homecoming. According to Seventeen, the American tradition started in the early 1900s on college campuses, as a celebration of the first football game of the season. Since, the dance has become an integral part of the high school experience with traditions ranging from spirit weeks to elaborate proposals.
Students, both guys and girls, plan their proposals weeks in advance, thinking about how to ask and, most importantly, creating an elaborate sign that often contains a play on words. For example, Phoebe Yoon, 11, referenced Monsters Inc. in her sign to longtime friend Jay Camp, 11, she wrote, 'This may be sully but HOCO round two?'
The pair went together last year, with Camp asking in a similar fashion, so Yoon decided to return the favor. "I wanted to go with him again," said Yoon.
For other students, like Emma Davis, 11, it was their first time being asked to Homecoming. "My boyfriend asked me, but I was surprised because we had been texting like ten minutes before, and then he was at my house ringing the doorbell. It was very special and sweet," said Davis.
Leave a Comment