Sports highlight: Cheerleading spotlight on Lana Ivester
More stories from PG Stewart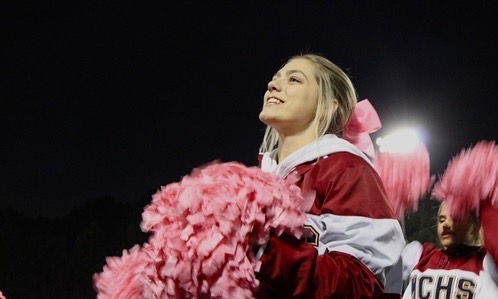 Being a cheerleader has been a part of many teenagers' lives, one of which is Lana Ivester, 11, who has been in this sport since kindergarten. When asking Ivester why she wanted to continue cheer she said, "I ended up liking it, and just decided to continue it as my sport, and extracurricular." With football on Friday nights and being able to cheer for everyone on the field, enjoying this sport is easy.
With stereotypes and her actual experience, when Ivester was asked how the community of cheer has changed who she is, she replied with, "The community has definitely changed who I am to some degree. I've found that stereotypes about cheerleaders actually tend not to be true. I've also found that people on the team are nice and fun and have definitely changed me for the better."
Because of Ivester's love for cheerleading and the community surrounding it, when asking her if she plans to have a future in college cheer, she responded, "I do want a future in college, but I do not think it will involve cheer."
Although cheerleading is fun as a kid, becoming a cheerleader in high school is a bit different. Asking Ivester if she has experienced a different environment or work ethic in varsity she said, "There is a different environment on the varsity team because we are held to a higher standard. For example we have to know all the cheers, chants and what dances go with what music." 
From memorization and cheers to the community surrounding the sport, Ivester has been a great cheerleader to have on the team and a great influence to others.
Leave a Comment