Gwinnett County's Annual Earth Day Recycling Event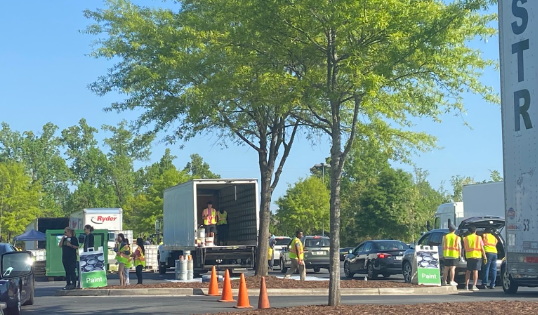 On April 23, 2022, Gwinnett County Solid Waste Management worked with Gwinnett Clean & Beautiful to hold their annual Earth Day Event at Coolray Field. This is an opportunity for members of the community to volunteer, and for residents to play their part in helping the environment.
Gwinnett Clean & Beautiful is a nonprofit organization dedicated to keeping the environment healthy. They hold many different types of events throughout the year to expand environmental knowledge to participants.
The purpose of the Earth Day Event is to reduce the amount of waste produced by giving residents an easy way to recycle larger or more hazardous items. This includes tires, oil- and latex-based paints, electronics, clothing, and sneakers.
Many volunteers from the county come to help load trucks that will carry out the waste, where it will be recycled. This reduces the amount of waste being sent to landfills and also diminishes illegal dumping, a prominent issue in Gwinnett.
"Illegal dumping is huge, and it impacts Gwinnett County," said Tanner Dilworth, a volunteer for Gwinnett Clean & Beautiful. "People will dump items on their neighbor's property, and that is because they don't have an appropriate place to dump their trash, like here. We're giving people opportunities to get rid of tons of garbage that would otherwise end up on the side of the road."
Hundreds of Gwinnett County residents contributed and were able to help avoid any further pollution. This event not only helps the environment, but also gets people excited about taking action for the community.
Leave a Comment