National Hispanic Heritage Month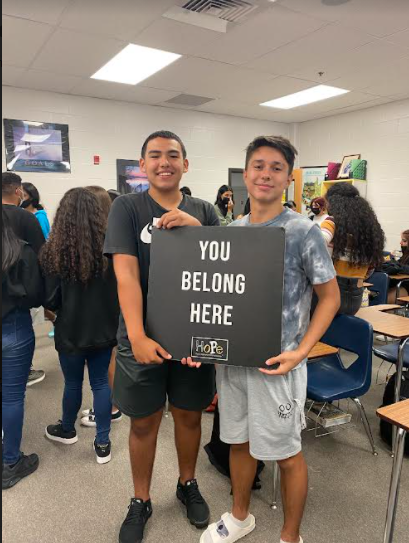 National Hispanic Heritage Month
Copy by: Isabelle Clinger
It's National Hispanic Heritage month from September 15 through the 15 of October and HoPe club leader Ashley Coque, 12, is determined to spread the word about the rich history that Nation Hispanic Heritage month entails.
"Hispanic Heritage Month is a representation of who we, as a whole, are. And there, it's a month of recognition of Hispanic people who have made a change in the United States or anywhere in any other country," Coque said.
To honor this month, Coque has plans to educate and celebrate the traditions of hispanic heritage using her position as club leader.
"We're planning this month on having a mini international night where people represent their countries and bring in food, wear their flag and talk about their own countries and we'll have tables set out for each country so they can have a set of their food and just things to talk about, like for the people who were from that country and what they did," Coque said.
Coque also discussed the connection she has with the month-long holiday and why she loves to celebrate it each year with her club.
"I love how different countries will have little festivals and just show how they represent their heritage and their culture and their food and what they do," Coque said.
During National Hispanic Heritage Month, Coque praises the HoPe club creators and how they strive to inspire her as fellow leaders, along with why they're so important to Hispanic Heritage.
"I feel like the Hispanic figures that have inspired me the most are the creators of HoPe. The club that I'm president for because they have created such an amazing Club, where you can find our family and have someone have our back and not feel alone and in a school that's majority white, and we'll just have like a family that we can count on," Coque said.
As the HoPe club celebrates this month, Coque emphasizes the importance of learning Hispanic Heritage and why it's essential to today's generation to learn.
"It's so important to learn Hispanic heritage. We've actually been working with Mr. Lane because the schools have been pushing Hispanic Heritage Month and educating kids on what it is and how important it is," Coque said.
Leave a Comment
About the Contributor
Isabelle Clinger, Staff Writer
Hey! My name is Isabelle Clinger and this is my first year in the news. I'm a junior in the last half of high school and I'm thrilled to be spending...