Spotlight: Nagie Richard
Nagie Richard, 11, is a student at Mill Creek High School. She is in International Thespian Society and is an officer. Richard also is involved in the National Honor Society, Student Council, and the African American Cultural Association.
Richard started theater in her seventh grade year and has continued ever since. She says her passion started for theater when she saw her older brother's performance in, "Bye Bye Birdie," in his eighth grade year.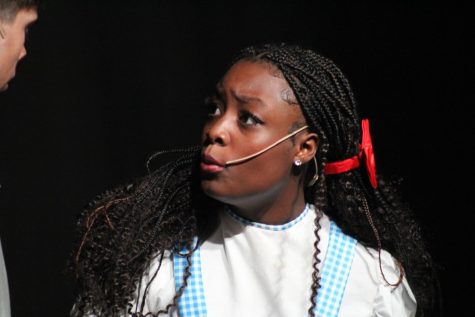 She said, "In his last year of high school, I wanted to perform with him. So in his senior year, I performed with him in Curtains." Their mother has been supportive of both her and her brother's theater career.
Richard looks up to her mother when faced with obstacles, "I would say my mom, because even though she has obstacles, she can still overcome them," Richard continues, "She has had several people doubt her and she has always proven them wrong."
She says her mother gives her the confidence to take on theater, "She helps me with my confidence because I am really shy. I don't speak up and she encourages me to speak up for myself."
To Richard the most stressful aspect of theater is acting, being sure that she represents the characters well and in a way that the audience will enjoy. Studying lines has always been a major part of her role in theater, but her favorite way to study lines is by using flashcards. Richard explains that monologues are the hardest to memorize, because all the lines that are back to back with few cues.
Richard was cast as the Fairy Godmother, in the upcoming Mill Creek Theater's upcoming show, "Cinderella Enchanted." You can see Richard perform in, "Cinderella Enchanted," on March 9-11 and through March 16-18.