Trunk or Treat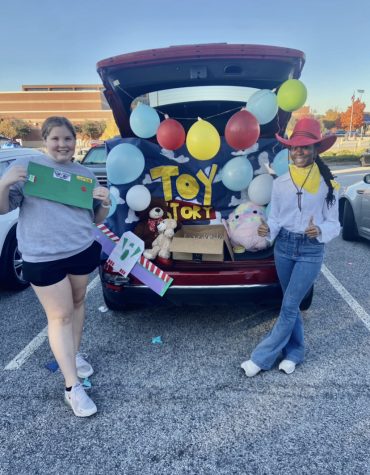 Trunk or Treat is an event held by Mill Creek High School with volunteers from our school and community to celebrate Halloween. Whether volunteering is giving you or another an opportunity it's great to be involved in the community like Trunk or Treat. 
Asking Destinee Edwards, 12, Senior Vice President of Character for National Honor Society (NHS), why she decided to volunteer for this event she said, "I volunteered last year for hours and because I felt like it was my responsibility as an NHS officer, but it ended up being a lot of fun so I was excited to get to do it again this year. . .I joined NHS to be a part of a leadership society and have a way to volunteer in the community which it has definitely given me" 
Talking to Lydia Schwab, 12, Senior Vice President of Leadership for NHS why she joined her club and what club she was sponsoring she said this, "I joined the NHS because I had always heard about juniors and seniors getting to be in a special service club. I joined junior year and was selected as the VP of leadership. It has been a very fulfilling role and has taught me countless valuable leadership, teamwork, organization, and dedication skills. I truly love the organization and the sponsors as well as my peers."
Asking the two students why they love serving the community Schwab said this,  "Our upcoming event is the Annual Toy Drive, where we are collecting new toys for children at the Home of Hope in Buford and the Atlanta Mission shelters. We donated 589 toys last year, and we plan to donate even more this year. This is my favorite service project that is offered at Mill Creek because it gives me a chance to give back to my community and make so many children's holiday season special."
Edwards responded by saying, "There's genuinely nothing like seeing the smiles on faces. Trunk or Treat specifically was amazing because people of all ages came and their faces lit up when they saw all of the trunks and costumes." 
Whether it's donating or dressing up and serving others, the community service given by students has impacted this community.