Teacher Spotlight: Mai Yin Thigpen Tsoi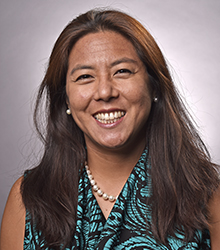 Mrs. Thigpen, better known as Dr. Tsoi (pronounced Choi) by her students, is a college prep chemistry teacher and one of the many new teachers who started this 2021-2022 school year. Her teaching journey started unexpectedly, but she always knew she had a knack for the profession. "It's my skill set. I can teach anything to anybody. I've taught programming, physics, language arts, elementary math. I mean I can teach you how to change oil," Thigpen said.
Her first teaching job came from a bulletin board notice that caught her eye at college. Unsure of what her future held, a potential opportunity to make money fresh out of college seemed too good to pass up.
She showed up with a suitcase full of chemistry demos and taught her first class at Georgetown Day School in Washington D.C. Despite her nerves, she was offered the job on the spot. "I stayed till eight, nine o'clock setting up labs and it was great. I was hooked," Thigpen said.
The following year she moved to Atlanta and taught at Holy Innocents Middle School but soon had the opportunity to finish her master's degree in Organic Chemistry at Georgia Tech. However, at GA Tech, she solidified her love of teaching while working as a teacher assistant on campus.
For the next eight years, she spent her time at Collins Hill, where she won teacher of the year and was second runner up for the state teacher of the year.
After moving to Hamilton Mill a year and a half ago, Thigpen proclaimed, "It has been the best neighborhood we've ever lived in." Besides her love for the surrounding community, she also believes it is an exceptional educational place. "The philosophy here is unique, it's building the students from within. As I've gotten to know Jason Lane, he's just an exceptional leader, and the administration here is strong. I'm just highly impressed. I wouldn't put my kids in any other school, so if I wouldn't put my kids in any other school, why wouldn't I teach here," Thigpen said.
Building students from within and real-world application are the core components of Thigpen's teaching philosophy. She recognizes that the 21st-century workplace is rapidly changing and that the jobs her students will hold have yet to be created. Thus, she focuses on teaching core skills such as critical thinking, rationalizing data, connecting with others, communicating, and translating information.
The connections she is able to form with her students drive her passion for teaching and allow her to impact how her students see the world. In particular, Thigpen has found a special connection with her Asian American students, as she is one of the two percent of teachers in America who are Asian. For many of these students, it is the first time having a teacher who is of the same racial group as them, which Thigpen believes influences the way in which they see education. However, at times, she admits that being Chinese can be tough, especially within her family dynamics, since teaching is seen as a poor profession in Chinese culture. Regardless of outside perceptions, Thigpen takes pride in her passion for teaching.
"I wake up and I'm excited to come to work. My children see me teaching and they see how much passion I have for it. So they get excited about things in their lives and to model passion is an honor, because many people work to live. I live to teach. I live to work. I love what I do," Thigpen said.
Leave a Comment