Black History Month and it's Significance Today
Black History Month has been a prominent part of the month of Febuary since it was first recongnized in 1976. The month has always been a time to recognize African American's accomplishments and resilience, and this year that reigns more true than ever. Since the Black Lives Matter protests in June, it has been a goal of many to amplify Black voices and to bring justice where justice is due. In light of this Mill Creek's African American Culture Association had some notes to share.
What is Black History?
Everyone has their own definition of Black history month and what it means to them. Madison Neither, 12, the president of AACA says, "I don't know if I have a full definition of Black History Month, if I think about it, but I know that it's rich. We have done so many things from Africa to America. There have been so many things done by us, for us, that we don't even know about. But Black History Month is obviously a tine to celebrate and recognize the accomplishments of the past".
Ciara Henderson, 12, follows up by saying, "Black history to me means, rememembering all that we've been through and how far we've come together".
"I think of it like a milestone each year. From maybe 10 years ago to now, that's serious growth." Chandler Mays, 12, says, " We just keep going, getting excepted here and there, but also showing our words and what we bring to the table".
How should people celebrate?
Henderson comments, "I definitely think that they should do their research before they get started. Educate themselves on history and everything like that, and ask questions if they have other Black peers, and just be thankful and appreciate them."
Mays says, "I would say spend time with people, and by that I mean Black folks. Just getting to understand where they're coming from and their value. Honestly, if someone of another race or ethnicity was just talking to me and asks 'so what is it like for you' that just makes me feel good, like they really want to know what it's like for me".
"There's not a 'set in stone way to celebrate Black excellence", Neither says, "It's not a set in stone holiday that you just know what to do, know what to give, know what to say to people. If you were to ask what should people do, I would say just being thankful. Realizing, just giving us recognition, know that we did stuff. We did this, we envisioned this, just highlight our names".
Favorite Black story?
Neither says, "I like the little known facts. I try to stay away from the Rosa Parks and Malcolm X's and to look for different people. Henrietta Lacks is one. She was one of the many people who dealt with discrimination in the medical field. She was a patient and had a type of cervical cancer. She passed away, but they took her cells, and they used her cells for a lot of different cures for this cancer, so technically her cells are still alive. Realizing people like that, who have made such an impact on the medical field. It's because of her we have these different medicines, but these people, she doesn't really get the recognition.
How can people do better to educate themselves?
Neither says, "I think I really wanted focus in on February, you know, the fact that I had this position, it's kind of like, it's not right, but it's right that they look at me in a sense, to do something for February. I get lots of emails, and people calling me out of my classroom like 'hey can I talk to you, I want you to do a bulletin board, and this and this and this next. I appreciate the recognition but there's a point where, in order for us to become one, you have to actually be able to want to do that [yourself]."
She then adds, "If I'm honest, I can't remember a time where we just surely had a moment of celebration. I'm not even just talking about Gwinnett county, I've been in different counties my whole life, I've moved all my life. There have been multiple times where we just didn't. We talked about it. We talked about Rosa Parks and MLK, but in terms of just the idea of Black History Month and how, why you should celebrate it, and look back, and emphasize it; that was never such a big thing. That was never part of the curriculum."
Mays chimes in by saying, "Even in school, in history class, of course we learn about slavery and all that good stuff, but growing up it was weird. I was like, why am I finding out on social media, more about my people than in class… My mom did not grow up in a suburban area, and she would mention these black people, and I would be like, I've never heard of you before,m so now I got to do my research. When we were just talking about this last year, why did this name never come up. I feel like they can do a better job of including the whole story. I understand that would be weird, but it's already weird to us; it feels like we're kind of chimed out".
Even though Black History Month is coming to it's end, there are always opportunities to educate yourself and to learn more about the lives of Black peers and their experiences. The next time that a common Black story is mentioned, question what background may be missing, and maybe there will be more knowledge to be learned.
View Comments (1)
About the Contributors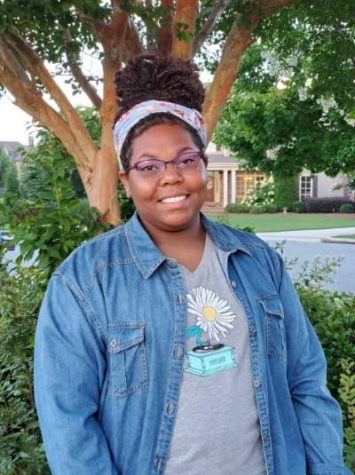 Bree Withrow, Editor
Hello everyone! I'm Bree Withrow and I am a co-editor of the newspaper this year. I am a senior here at Mill Creek this year, and I'm so excited to report...