K-Drama recommendations for Newbies
Are you new to K-Dramas or are you looking for something new and interesting to watch? K-Dramas are known to be overly dramatic and a bit crazy for inexperienced watchers, however, I have picked out five Dramas on the lighter side. Warning: Sappy Love
Its Okay to Not be Okay
Love Alarm
My Secret Romance
Rookie Historian
Abyss
It's Okay to Not be Okay follows Ko Moon-young, a children's book author suffering from antisocial personality disorder, and Moon Gang-tae, a caretaker at a psychiatric ward who is frequently moving in order to take care of his autistic elder brother. Both main leads come from a long past of childhood trauma, which is a vital part of the show. Moon-young is a daring, bold, and blunt woman, whereas Gang-tae is a quiet, low-key, and tolerant man, making them two polar opposites. This K-Drama is funny, empowering, sad, emotional, and unique, among other things. It has what most don't: a focus on mental health and trauma. This would be the perfect K-Drama to dip your toes in if you are new to K-Dramas.
Love Alarm is set in a world where an app can tell you if someone within 10 feet of you loves you. Our main lead, Kim Jojo, has a difficult and depressing life even though still in high school, which makes her instantly lovable. Two close friends set their eyes on her and spark the start of new relationships and question what it means to love and be loved. This K-Drama is perfect for those of you that enjoy sappy TV teen romance shows. Warning: Season 1 ends with a cliffhanger that should be illegal, and it is unknown when Season 2 will be released.
My Secret Romance is a go to heart throb drama. It follows the story of a rich heir of a successful business, Jin-wook, and a humble cafeteria worker, Yoo-mi. Our two main leads meet in a bus and later during a wedding ceremony. After some embarrassing encounters and a rough day, the two spend the day together and make their peace. Afterwards, Yoo-mi goes home leaving only a rather unusual memento. Two years pass and she finds herself accidentally working in Jin-wook's company. This drama is on the shorter side with only 13 episodes, but it will keep you hooked until the very end.
Rookie Historian is the first and only historical drama on this list. The politics and history involved in this drama does not overwhelm the viewer, which differentiates it from other dramas of its kind. It follows the story of the imperial family of the Joseon Dynasty and a group of women historians, meaning there is a lot to love. This drama is 20 episodes long and has ended, so if you like to binge watch shows from start to finish, this is perfect for you.
Abyss is a wild ride. It follows the story of a detective and a corporate heir after they both die and are revived into different bodies. They are determined to find the serial killer that murdered Detective Se-yeon. Needless to say, the orb used to revive them is called 'Abyss' and it has terrible consequences for each use. Abyss is slightly gorey and the mood can change from fun and easygoing to dangerous and tense in a matter of seconds. If you like watching shows that are unpredictable, Abyss was made for you.
Leave a Comment
About the Contributor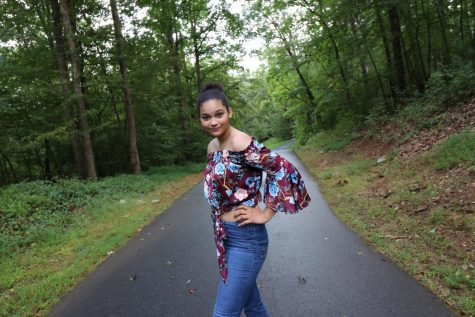 Dhaiana Tapia Rodriguez, Staff Writer
Hi, I am a senior and this is my first year on staff. I like to cover important events at our school, dabble in sports, and show off the awesome students...