9th Grade Home Game Against Norcross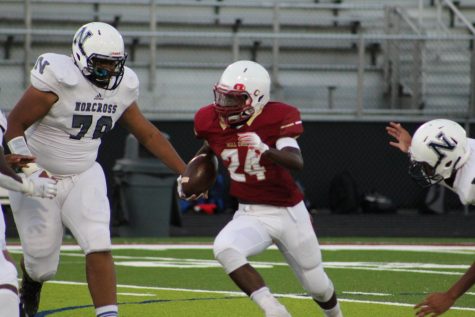 The ninth grade team had a game on Thursday, Oct. 1. It was a home game against Norcross.
"We were more comfortable, since it was a home game, and knew where we needed to be because we practiced on that field," Daniel Okeleke, 9, said.
The ending score was 27-7, with the mill creek team winning.
"Norcross did pose a much bigger threat than the rest of the competitors in past games and they stood a good chance to win," Levi Roach, 9, said.
The boys agreed that they could have started the game off differently, and spoke of many corrections they should have made.
"We started the game off a little slow giving up the touchdown early but we found out our mistakes and we finished the game with a victory," Cam Robinson, 9, said.
The game consisted of a lot of penalties against Mill Creek, consisting of offsides and holding calls.
"We could have made less mental mistakes like jumping offsides and had less holding calls," Max Hammond, 9, said.
The next ninth grade football game is Thursday, Oct. 8 against North Gwinnett at North Gwinnett.