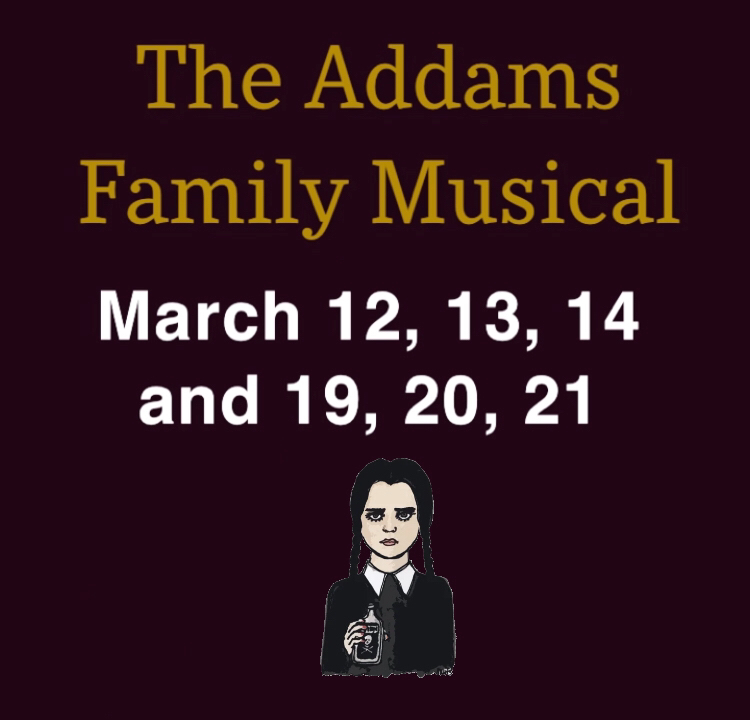 Stiles Ramsey
Theatre had six showings for the Addams Family Musical planned for March 12, 13, 14 and March 19, 20, 21.
Fiona Meador, 10, is in theatre and is part of the musical.
"The Addams Family is a Broadway musical, and its plot is centered around young Wednesday Addams finding love and all the fallout that comes with that. When viewing the musical, you can expect characters [who are] enthusiastic about death, along with songs that will make you laugh and cry. I love all of the songs in this musical, and the dance numbers are also so cool to watch and perform in," Meador said.
All of the theatre classes contributed to the musical and are disappointed that only one out of six shows has been put on.
"Preparations started almost as soon as we came back from winter break. Auditions took about two weeks, and rehearsal began soon after. They were most days a week, starting after school and ending anywhere between 6:00 p.m. and 9:00 p.m. We've put a lot of work into this show, and I am really proud of how it turned out. Obviously, we are all disappointed that we've only gotten one night to perform so far," Meador said. "But fingers crossed for rescheduling."
Meador is hopeful to get to perform and do what she loves.
"Hopefully, we will reschedule as many performances as we can. It is really a different experience when you're on stage and hear everyone's reactions. All those rehearsals are so worth it," Meador said.