First confirmed Coronavirus case in Georgia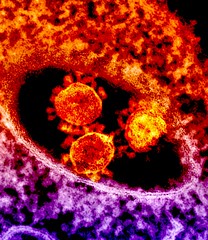 At a press conference, Georgian Governor Brian Kemp announced that 2 Georgians tested positive for the Coronavirus, or COVID-19.
On March 2, two Fulton County residents -a son and father- went to the doctors with the suspicion that they had the Coronavirus. After a few tests, they were correct and were placed in isolation in their home.
Dr.Kathleen Toomey said at the press conference, "I want to reassure you that they're at home, in home isolation with other household members, with minimal symptoms so they're not hospitalized."
Gov.Kemp said, "We're preparing for the worst and hoping for the best. This is not something we're just now thinking about."
But most experts say the Coronavirus is not all that different from the flu, as the CDC has said multiple times.
Kayla Anderson, 9, said, "I'm not very concerned about it considering we live so close to the CDC. Plus, the Coronavirus isn't all that different from the flu."
President Donald Trump has made it clear that America will not suffer from the COVID-19.
At the press conference on Wednesday, President Trump said, "It probably will, it possibly will. It could be at a very small level or it could be at a larger level. Whatever happens, we're totally prepared."
Some Americans believe the government could be doing more to prevent the spread of the Coronavirus.
Ethan Kim, 9, said, "I think the government could definitely be doing more to prevent the Coronavirus from spreading. The President is treating this like it's not that big a deal. It's like he doesn't even wanna deal with it."