Finding Oxygen Can Lead to Discovery of Life on Planets
Finding Potential Life on Exoplanets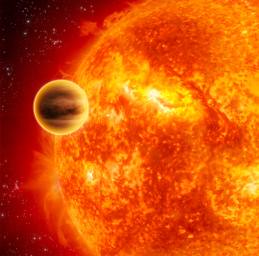 Searching for oxygen on an exoplanet, a planet outside of our solar system, is thought to aid the search for life outside of earth, according to CNN.
CNN said, "The scientists believe their new method could speed up the quest for life…"
Scientists can figure out if exoplanets host life by looking into the planet's atmosphere. For a planet to be seen as holding life, it must have the present of biosignatures, like oxygen.
CNN said, "The new method will rely on detecting the strong signal created when oxygen molecules collide in the atmospheres of exoplanets."
NASA's James Webb Space Telescope will be used in the method to see into the exoplanet's atmosphere.
According to CNN, "The telescope will launch in 2021 and take a closer look at intriguing exoplanet targets already identified by previous planet-hunting missions such as NASA's Kepler and TESS."
If astronomers find the unique signal that is produced by oxygen molecules, they can move on in their search to see if the planet can contain life.
CNN said, "The collision of the oxygen molecules is key because they block infrared light from the telescope, creating patterns in the spectrum that help determine the composition of the atmosphere. To create their method, the researchers calculated the amount of light expected to be blocked out by the collisions."
Detection of oxygen alone is not enough evidence to guarantee that there is life on the planet since it can form in different ways.
By seeing how many dead planets generate oxygen, we can better recognize if a planet is alive or dead.
The possibility of finding life on exoplanets is not certain even if it shows signs of having oxygen. With further research and more studies, scientists may be able to find life on exoplanets or see if a planet is dead or alive.
BrookLee Lightsey, 11, said, "Finding oxygen on other planets would be really cool because it can lead to the future findings of life."