Apple Music Awards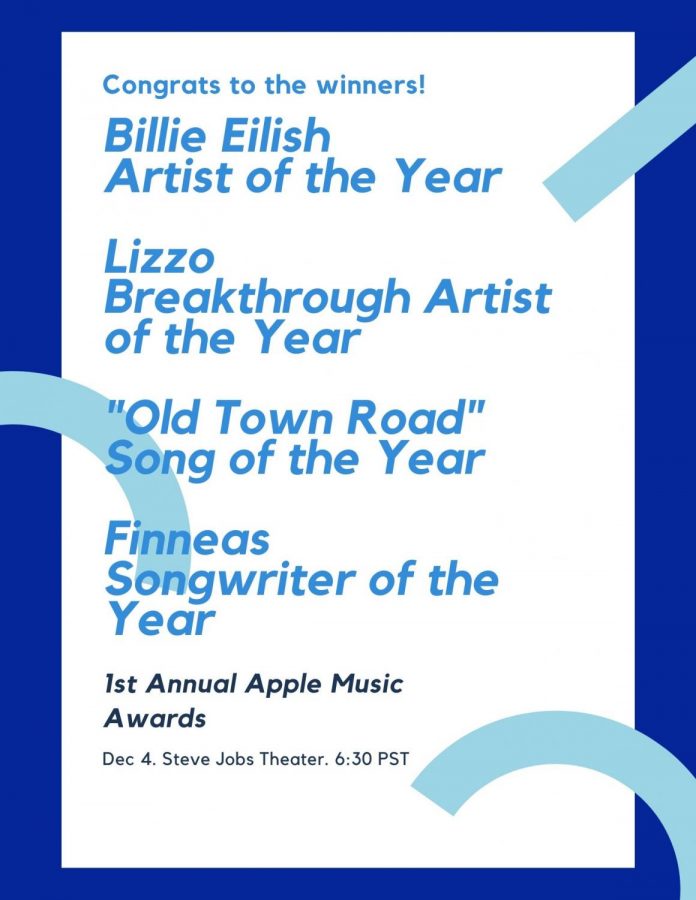 On December 2, Apple released the winners of their first ever Apple Music Awards.
Billie Eilish was titled "Artist of the Year." She released her second album earlier this year, earning herself a spot as No. 1 on Billboard's Top 100 and Artist 100. She was also a record-breaker for Spotify.
According to Independent, "Globally, 17-year-old Billie Eilish scored the biggest album of the year with her debut, "When We All Fall Asleep, Where Do We Go?," marking the first time a female artist has topped the list. She was also the second most-streamed global artist of 2019 [on Spotify], and her hit single "Bad Guy" was the second biggest track, after Camila Cabello and Shawn Mendes's duet "Senorita"."
Lizzo has been named "Breakthrough Artist of the Year." She had one song, "Truth Hurts", that was No.1 on Billboard's Top 100, and she also has eight Grammy nominations.
Maya Smith, 10, said, "[Lizzo] is a really influential person, you know. I can't think of another singer that really deserved it this year."
The "Song of the Year" award goes to "Old Town Road" by Lil Nas X, featuring Billy Ray Cyrus. The song broke records when it stayed No. 1 on Billboard's Top 100 for 19 consecutive weeks.
According to Billboard, ""Old Town Road" was a runaway chart hit on the weekly Hot 100 chart, as it spent a record-shattering 19 weeks at No. 1…Lil Nas X, who turned 20 on April 9, is the youngest male artist with the year-end Hot 100 No. 1, and the second-youngest act ever to lead the year-end tally. He trails only a 19-year-old Lulu in 1967, who claimed the year's most popular tune with "To Sir With Love.""
Finally, the "Songwriter of the Year" is Finneas, Eilish's brother, who wrote the majority of her two albums and her newest song, "everything i wanted."
Kristina Buckley, 9, said, "Everyone always praises Billie for her lyrics and how crazy it is that a 17-year-old wrote an album that good. But when you think about it, she really threw a few lines in there and [Finneas] did all the work when it came to the lyrics."
Billie Eilish celebrated with a live-streamed a performance at the Steve Jobs Theater on December 4.