Cheer Hawks Win State Title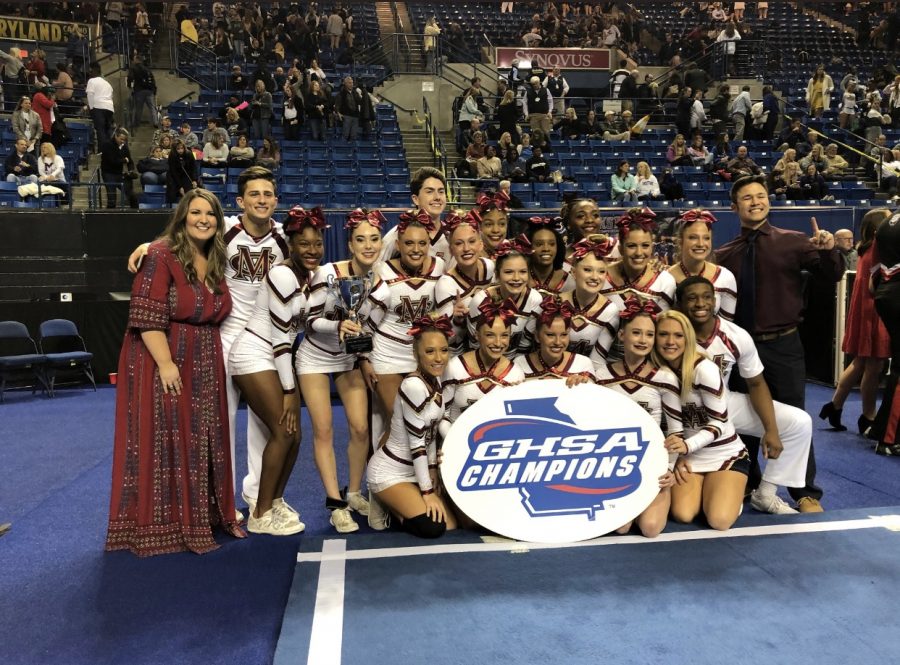 On Friday, November 15, Mill Creek's competition cheer team won the state competition for the second year in a row. The team left for Columbus on Thursday, November 14 and competed on Friday night.
After placing second at sectionals, the Cheer Hawks began to push themselves even harder at practices leading up to state.
Cheerleader Cameron Cochran. 12, said, "We were nervous because we had been working so hard this season, and we wanted to win so badly. After placing second at sectionals, we knew it was do or die at state."
The spirit cheerleaders, who are not on the competitive squad, got to watch the team compete live while they cheered on the football team in their win against Newton County in the first round of the state playoffs.
"It was really cool to be able to support them from Markham Field while they were three hours away representing the school at State in Columbus." Lara Ridley,11, said.
The spirit team not only got to live stream the Cheer Hawks' performance, but they also got to watch the awards ceremony where they witnessed them win first place.
"Everyone rejoiced as soon as we found out the news.We knew how hard they had worked, and we were so proud of them," Mady Dodd,11, said.
This was also many seniors' last time competing at a cheer competition.
"I was sad to see it come to an end, but there was no better way I could have completed my cheerleading career then winning first with my team at State," Cochran said.