Band competition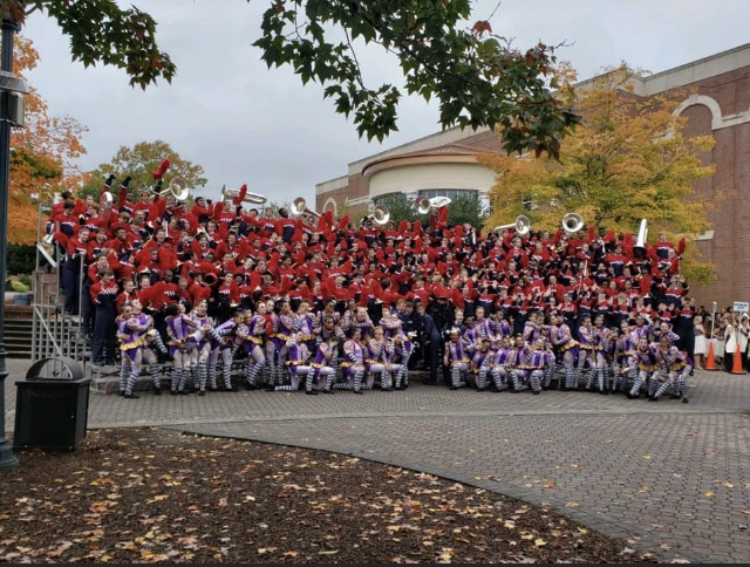 Band Competition
Mill Creek's band went to North Carolina from October 18-20 to play in a competition. Emma Davis, 9, a baritone player, explains that it didn't end up being a competition after all.
Davis said, "They weren't doing scores because [only] seven of the 22 bands showed up because 15 dropped out after they said we were doing stand still runs."
Mill Creek still participated even though there was a chance of rain.
"It rained thirty minutes after we finished, so that was depressing. But other than that, it was pretty good," Davis said.
Due to the chance of rain, the band had to perform a stand still run.
"[A] stand still run is where you stand in concert arcs, which is basically a half circle, but it's separated by sections. And then you stand\; you don't march anywhere. You just stand in your dot, and you can do the choreography and stuff, but you don't march," Davis explained.
Even though the band wasn't being scored, they still received commentary from the judges.
Davis said, "They were talking about our tone quality and…pitch and our enthusiasm in the choreography, and there was [talk] about the flute and trumpet soloists in the ballad and tuba solo in the opener."
Davis also revealed the process that the band went through when they played at the competition.
"We had to warm up, and that took [around 10] minutes. Then, our show took about 10 minutes. We started [the show] early, so we could have longer commentary from the judges, and then, commentary took probably longer than 10 minutes," Davis said.
Even though they did not officially partake in a competition, Mr. Mason still told the band students that they performed very well.
Davis remembered him saying, "Y'all did very good today. Your show was great, and overall, we did pretty good."