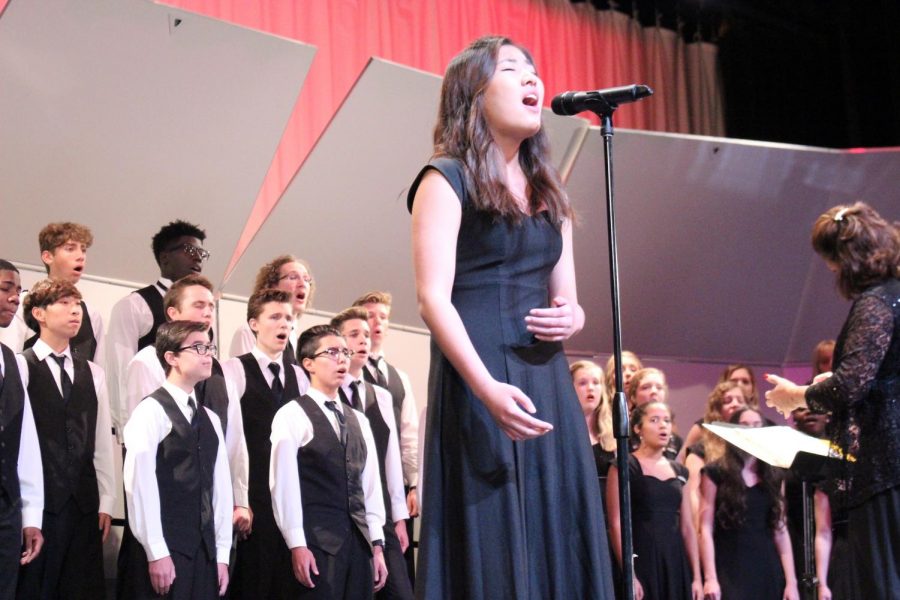 Alyson Holloman
Seven Mill Creek students made it into this year's 115 member state wide Georgia Music Educators Association (GMEA) All-State Reading Chorus. The director of Mill Creek's Chorus, Stephanie Archer, is asking everyone to help her celebrate the success of these seven students.
The chorus will go to the Classic Center in Athens, GA at the end of January for a Thursday, Friday, and Saturday to perform. Specific dates are to be announced.
The seven students who made it in are Quinn Dillard, 10, Kayla Park, 10, Elijah Johnson, 10, Holly Smith, 10, Aurora Veres, 12, Alyssa Cornelius, 12, and Eli Shaw, 12.
The All-State Reading Chorus consists of a select group of students across Georgia who come together on a weekend in January to perform sight read music. Sight reading is when a singer gets presented a piece of music they have never seen before and have to perform it without prior preparation.
The students in the GMEA All-State Reading Chorus get five different-eight measure long pieces and are allowed 45 seconds to look over each eight measure long piece before performing.
"The Reading Chorus is the most rigorous activity for choral students and those who make the cut into this choir have demonstrated mastery of music/sight-singing literacy skills," Archer said in her email announcing the students who made it in the chorus.
It is Quinn Dillard's second year making it into the All-State Reading Chorus, and she really enjoyed the experience last year.
"I loved sight reading [at the All-State Reading Chorus last year]. It was really fun to skip school to go to an honor chorus filled with really talented kids [who were] doing something we were passionate about. Also, a lot of the songs we sight read were beautiful, and it was so cool to be looking at a piece of music and hearing a whole choir singing a song they had never seen before so beautifully," Dillard said.
This is Kayla Park's first year in the Reading Chorus, and she is looking forward to being a part of it.
"I am definitely looking forward to the new experiences the most. I've been active and loved participating in choral activities since I was really little, from Honor Chorus to All-Sate, but this is a new opportunity I'm excited to embark on," Park said.
More Mill Creek students made it into this select All-State Reading Chorus this year than ever before.
"Last year, only four kids from Mill Creek made it in, but this year, seven kids got in, so I'm really looking forward to having even more people go this year and to share the experience with them," Dillard said.