"On the Come Up" book review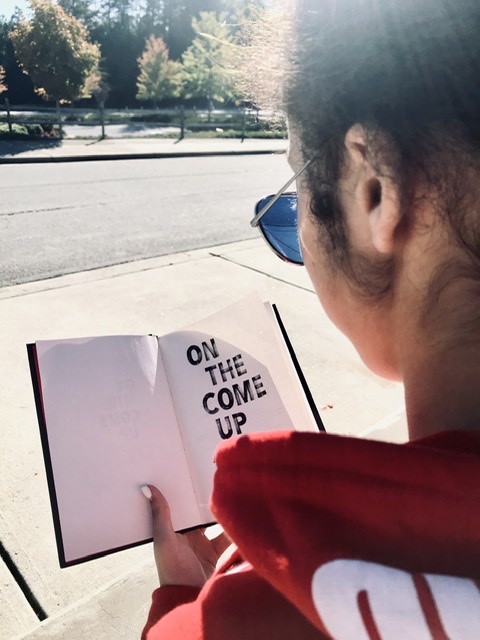 "On the Come Up" by Angie Thomas revolves around an amateur rapper named Brianna "Bri" Jackson, who lives in a poverty-stricken, gang activity-filled neighborhood with her mom and brother who gets a chance at a stable income for her family.
Bri's father was a famed rapper named Lawless. Lawless was shot by a gang in Garden Heights, which causes Bri's mother, who Bri calls "Jay," to become a drug addict. She's been clean for eight years, but she now struggles with finding a job to keep the lights on. But Bri's Aunt Pooh, who works with the gang that killed Bri's father, helps support the family.
When one of Lawless' old associates, Supreme, offers Bri a chance as a recording artist with a promise that she'd be able to pay the rent, she accepts. She pours her anger-filled heart into her first song, striking controversy, due to her lyrics referring to gun violence, police brutality and taking in racial stereotypes. With local gangs converting the neighborhood into a trap house and an angry, grieving grandmother, the "come up" proves to be harder than Bri imagined.
"On the Come Up" is a continuation of Thomas' first novel, "The Hate U Give," which takes place in the same neighborhood as "On the Come Up." "The Hate U Give" is about a girl Bri's age whose African American friend gets shot by a police officer, shaking the entire neighborhood with fear and an urge to bring justice for Khalil.
Skyler White, 9, read "On the Come Up" the week it was released.
"I really liked [the book] because even though it's not a sequel, it builds onto the story of 'The Hate U Give,' like what happened in the neighborhood and how it affected everybody else," White said.
White has been an Angie Thomas fan since she first read "The Hate U Give" in 2017. The words on each page spoke to her as a minority and as a teenage girl.
White says her favorite part of the novel is, "Probably at the end of the book, because Bri has this epic moment as an independent black woman and not a random, raging teenage rapper."
White, who is the daughter of two mixed parents, initially started reading Angie Thomas' novels because of how each main character's ethnicity becomes involved in the plot.
White said, "I honestly consider Bri and Starr [the main character in 'The Hate U Give'] to be role models. They're just so confident, and the fact that they're black makes it so much more awesome. It's kind of, like, a confidence booster when I read her books."
White said, "When the book comes out at the mall, I'll probably be the first in line."