Adelaine Morin Released Makeup Palette with Tarte Cosmetics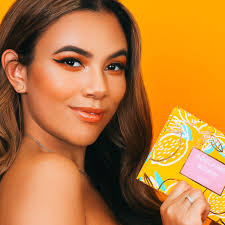 On April 7, Adelaine Morin, a beauty and lifestyle YouTuber, released a limited-edition makeup palette in collaboration with Tarte Cosmetics.
According to the Tarte Cosmetics website, the palette contains nine eyeshadows, a highlighter and a blush.
Upon releasing her palette, Morin also uploaded a video on her YouTube channel, AdelaineMorin, where she went into detail about her palette and its creation.
In her video, titled "Adelaine x Tarte Reveal," Morin mentioned that she went to school in order to be educated when she created her palette.
"I went to, not only makeup college, but also skincare college, so that I feel like I'm knowledgeable, and I'm able to sell you guys the best palette that I could ever make in my entire life," she said in the video. "I didn't want to make any mistakes in this. I wanted to be educated."
Morin was involved with choosing each of the shades inside the palette, and she began the process in Costa Rica.
"I went to Costa Rica with Tarte, and at the time, nobody knew I was collaborating with them," Morin said in the video. "I think it was one of the last days of the Costa Rica trip, and one of the girls [who works for Tarte] goes up to me and was like 'Hey, Adelaine, is it okay if you take a photo for the Tarte Instagram?,' which is what you do when you go on one of those trips."
"So she pulls me off to the side, but she brings me into a room, and I'm like 'Okay, this is not normally what we do.'"
"So the owner of Tarte is in the room, and she goes…'Adelaine, don't tell anyone that you're here.'"
"She brings me off into the washroom, and there's a big table filled with eyeshadows. There's a couple laid out in the middle, and [the owner] goes 'Okay, this is what I was thinking about for your palette, but what do you want in your palette?'"
Morin was able to choose eyeshadow colors that she wanted during the visit, and she was also able to name each of the shades.
"My idea for this palette was for a girl to look at this palette..and feel happy applying these shades and using the palette, and also reading the names," she said. "I just tried to find fun, silly names that make you feel good about yourself."
Some of the shades in the palette include an orange shade called "Boss Lady" and a mauve blush called "I feel beautiful."
"Every single shade I have put my blood, sweat and tears in," Morin said. "There is not one shade in here that I don't like."
"I'm so grateful and so thankful, and I'm filled with so much gratitude. I wouldn't be able to do this without [my fans], so I just want to say, 'Thank you so much from the bottom of my heart.'"
The palette can be purchased at Ulta stores and on Tarte's website.