Mill Creek Summer Health and PE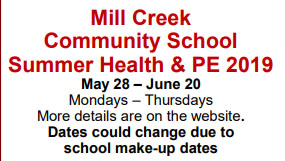 Students are currently able to sign up to take either health, PE or both courses during the summer.
According to the Mill Creek website, the courses last from May 28 to June 20, and they occur each week from Monday to Thursday. Students can choose between taking a class in the morning session, which lasts from 7:00 to 11:00 a.m, or in the afternoon, which lasts from 11:20 a.m. to 3:20 p.m.
Lizbeth Parra, a sophomore here at Mill Creek, took both the health and PE courses the summer before her freshman year.
According to her, students should take the classes if they fit within what they value.
"I think [the decision to take the courses] comes down to what you value the most," Parra said. "Personally, I took the courses over the summer to have room in my schedule for another class. It was definitely worth it to me."
Despite the early wake up time, Parra found that she benefited from taking the classes over the summer.
"I wasn't a big fan of having to wake up early at first, but [the classes] kept me from wasting my summer away in bed," she said. "I also no longer ran the risk of getting stuck with first period PE."
According to the Mill Creek website, if students want to sign up for one or both of the courses, then they can register online on My Payments Plus. They can also fill out a contract and either make out a check to Mill Creek Community School or pay with cash. The contracts can be found on the Mill Creek website.