Fancy Valentines Day Recipes
If you're looking to make a fancier dinner for those you may have invited to spend Valentine's Day with you, or maybe just treat yourself to something tasty, below are several recipes that are inexpensive as well as easy to understand.
Arancini (Italian risotto balls)
Arancini Ingredients:
1 box Uncle Ben's white rice
1 cup shredded mozzarella
½ cup shredded parmesan
Chicken stock
2 cups flour
1 tbsp seasoned salt
1 tbsp black pepper
1 tbsp Italian seasoning
3+ eggs
½ cup cream cheese
Butter
Tomato Sauce Ingredients:
1 28 oz. can San Marzano tomatoes, peeled and crushed
2 tbsp oregano, finely chopped
1 cup basil, shredded
2 garlic cloves, chopped
1 yellow onion, chopped
1 tbsp olive oil
Chili Pepper flakes (optional)
Steps:
Follow the instructions on the box of rice to make 4 servings, but replace the water with the same amount of chicken stock. Once soft and cooked through, mix with cheese, cream cheese, and a pat of butter. Let chill in the fridge until cool enough to manipulate with your hands.
While the rice chills, simmer your onions and garlic for the sauce in the olive oil. Once the garlic is cooked through, add in the tomatoes and herbs/spices. Simmer and stir until the onion is cooked through and the sauce is well-mixed and bubbling.
After the rice has cooled, use an ice cream scoop to portion out the rice and roll them into packed little balls, and rest them on a baking sheet.
In a small dish, mix the seasoned salt, Italian seasoning, black pepper, and flour. In a separate dish, dump your flour. Coat each rice ball in egg, then roll evenly in flour, and repeat once.
Once all rice balls have 2 coats of both egg and flour, heat a deep pot or cast iron pan 4 inches full of vegetable oil. Once the oil shimmers and is very hot, add in about 3-4 rice balls, and fry on each side until golden. Repeat until all are cooked.
Serve about 3 rice balls to once plate, with tomato sauce on the side. Top with fresh mozzarella or ricotta.
Crepe Ingredients:
2 large eggs
1 ½  cups milk
1 cup all-purpose flour
3 tbsp melted butter
2 tbsp powdered sugar (optional, for sweet crepes)
Steps:
In a blender, pulse the milk, eggs, and butter until smooth, and then whisk in the flour and sugar. Let stand for 10 minutes, and grease a non-stick large skillet with butter. Ladle about ¼ of the mixture into the skillet on medium heat, flip once bubbles form, and lightly brown the other side.
Serve with fruit, Nutella, or cinnamon butter for sweet crepes, or scrambled eggs, cheese, breakfast meats, ham, and/or sauteed vegetables for savory crepes.
Parmesan Polenta with Steak, Herbed Ricotta, and Tomato  Ingredients:
1 16 oz. tube of pre-cooked polenta
2 cups shredded parmesan
1 tsp. Kosher salt
1 tsp. Cracked black pepper
4-6 skirt or flank steaks
2 tbsp olive oil
Cracked pepper
Kosher salt
2 garlic cloves minced
1 8 oz. tub of ricotta
Several sprigs of basil leaves removed
1 tbsp. Kosher salt
Cracked black pepper
2 tbsp Italian seasoning
2 tbsp sundried tomato oil
12 oz box of cherry tomatoes (multi-colored recommended), halved
Salt and pepper to taste
Mix the tomatoes, oil, and salt and pepper them.
Steps:
In a pot, spoon out the polenta, turn the heat to medium-high, and add the heavy cream. Allow to simmer and stir until thick and smooth, without lumps. Stir in the cheese and salt and pepper to taste.
In a very hot cast iron skillet (high heat), pour the olive oil in and add the garlic, simmer until soft.
Add a steak to the pan and sear until light pink in the middle, flip. Repeat for the rest of the steak and add more oil or chopped garlic if necessary.
Dump the ricotta into a mixing bowl, and add in the basil, tomato oil, and Italian seasoning. Salt and pepper to taste.
Serve polenta on a medium-sized plate, top with a dollop of the ricotta mixture, a filet of steak, and tomatoes.
Hang on for a minute...we're trying to find some more stories you might like.
About the Writer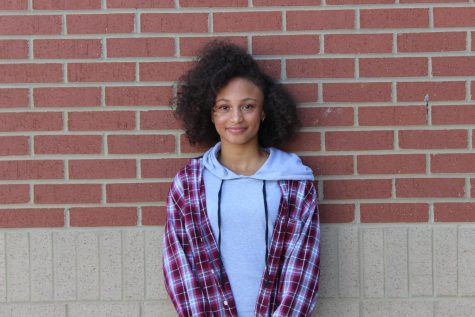 Sydney Harris, Staff Writer
Hi, I'm Sydney, and this is my first year writing for the Mill Creek newspaper. I love to read, write, draw, and cook. I hope that being part of the Mill...