thank u, next Review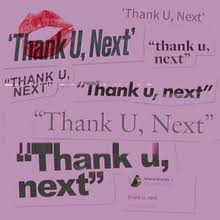 On Nov. 3, Ariana Grande released a new single called "thank u, next," which she wrote with several other artists, including Tayla Parx and Victoria McCants.
"thank u, next" has a softer sound than some of Grande's other songs, but it still manages to be upbeat.
Grande alludes to some of her past relationships in the beginning of the song, specifically mentioning Big Sean, Ricky Alvarez, Pete Davidson and Mac Miller. Sensing that some people may interpret the song as her bashing her exes, she took to Twitter to clarify the intent of the song.
Grande tweeted that "thank u, next" is "far from a diss track…" Instead, it's about "love, gratitude, acceptance, honesty, forgiveness…and growth."
"thank u, next" stands out from other songs that singers have released about their relationships. Rather than pointing out the faults in her former partners and their relationships like other singers have in the past, Grande took a different approach.  While it does mention her exes, "thank u, next" refers more to how Grande's past relationships have affected her than details of the relationships themselves. She reveals that "one [of her exes] taught her love, one taught [her] patience and one taught [her] pain" and that she's "thankful for her ex[es]" for teaching her those lessons.
The track is the first from her upcoming album to be released. Her next album, also titled "thank u, next," is still currently in the works, but its first single can be streamed from platforms such as YouTube, Spotify, and iTunes.