"The Nun" Movie Review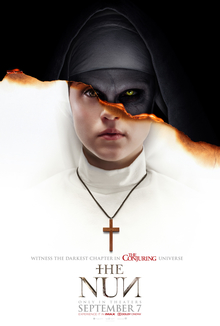 The new horror flick , "The Nun,"  is certainly a creepy experience for fans. The movie is about a priest who is sent out with a nun, who has not taken her vows yet, to investigate an "unusual church phenomena" at an abbey in Romania where a nun supposedly hung herself. They are sent to truly find out whether or not the land that the abbey is on is holy or not.
Surrounding the abbey is a cemetery with all the nuns that had previously lived at the abbey. Throughout the movie, it makes you wonder whether the nuns were buried alive by placing mysterious bells on the tombstones that rang whenever anyone came outside or was "disturbing the peace".
The evil Nun that haunts the abbey is one of the leaders of the underworld that has risen. This demonic nun is also the evil presence that appears in "The Conjuring 2."
This movie takes place mostly  in the dark, so it would definitely be one to make you scared of the unknown and possibly nuns as well.
Hang on for a minute...we're trying to find some more stories you might like.