Warning About Black Licorice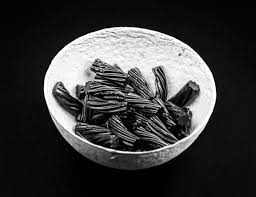 The FDA has put up a warning about eating too much black licorice, especially considering today is Halloween. Licorice contains glycyrrhizin, which is the sweetening compound extracted from licorice root. which could lower the body's potassium level which causes abnormal heart rhythms, high blood pressure, swelling and even heart failure.
For people 40 years or older, consuming 2 ounces of black licorice a day for at least two weeks could result in arrhythmia, or an irregular heart rhythm, according to the FDA.
If you like black licorice, the FDA is offering this advice:
No matter what your age, don't eat large amounts of black licorice at one time.
If you have been eating a lot of black licorice and have an irregular heart rhythm or muscle weakness, stop eating it immediately and contact your healthcare provider.
Black licorice can interact with some medications, herbs and dietary supplements. Consult a healthcare professional if you have questions about possible interactions with a drug or supplement you take.
Hang on for a minute...we're trying to find some more stories you might like.