For the Folk Music "Fan Attic"
Review of Stu Larsen's performance in Eddie's Attic.
Hang on for a minute...we're trying to find some more stories you might like.
Stu Larsen performed at the small venue Eddie's Attic on August 26. Here fans of folk music gathered to listen to Larsen's songs of his semi-nomadic life while he plays the guitar and harmonica. Eddie's Attic is different from most concerts. In a listening room, the audience has a seat, so they are not standing and dancing like other concerts. Also, instead of cheering and singing along they just sit and listen.
Many artists thrive off of feedback from the crowd, but Larsen said, "I love the quiet crowd. This is a dream. I wish every venue was like Eddie's Attic… They are all so different, but every time I play here I know it is going to be a good night. Everyone i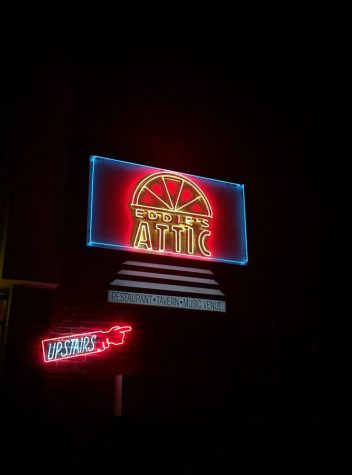 s listening and they are together."
The listening room was different, but an amazing experience and is definitely worth going back to see another show at Eddie's Attic.Of course, music style also has a large impact on the experience an audience can expect. Because Larsen's tempo and rhythm are slow and calming, the atmosphere allows the audience to feel soothed, vulnerable and personal with Larsen.
Larsen's music style can be compared most to the famous American rock folk band, the Lumineers. The roots of his artistic style take back to his life style change in Australia where he became a semi- nomad. While he traveled he wrote  songs, about his experiences. In 2014, he released Vagabond, this included 13 Sad Farewells, his most popular song. This album set him up for a world tour. Larsen went all across America, Asia, Europe, and Australia.
Now in 2017, Larsen is performing another world tour with his new album, Resolute which features his tales of wanderlust and adventure and Eddie's Attic was one of his stops for this world tour. Eddie's Attic allowed not only Larsen to get his message to the crowd but interact with the audience as well. People are not singing and dancing, but the energy in the room is so different that cheering, clapping, and dancing is not needed. "I can feel the unity in the crowd. I love it," said Larsen.