Mayweather vs McGregor
Hang on for a minute...we're trying to find some more stories you might like.
This Saturday, the 26th of August, once-retired boxer Floyd Mayweather, and mixed martial arts fighter and boxer Conor McGregor, are scheduled to go head-to-head in a boxing match. The two officially announced the fight on social media on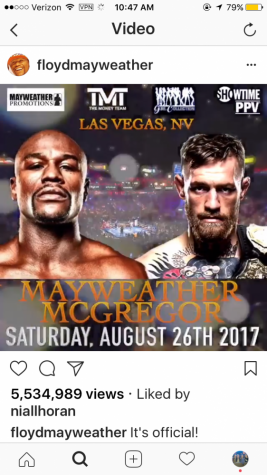 Wednesday, June 14th, two years after McGregor said in an interview with Esquire, "If I fought Floyd, I would kill him in less than thirty seconds. It would take me less than thirty seconds to wrap around him like a boa constrictor and strangle him."
For the past couple of months, the fighters have been touring to promote the match by holding press conferences across the United States and Great Britain, the final of which was held on Wednesday, August 23rd.
Mark Taffet, the previous operator for HBO's pay-per-view, said in an interview with CNBC that one out of every six Americans are expected to watch, and that doesn't even include those viewing in the United Kingdom.
The match is available on pay-for-view on CBS and UFC, but it can also be streamed on the Fox Sports Go app or website, or on the Showtime app or website.
Floyd Mayweather on the fight says, "I just go out there and fight. I don't worry about my record. I've been blessed with hands and fast feet and a tremendous mind. It'll all be on display Saturday night."